Description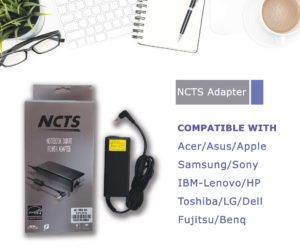 Product Description
NCTS is a professional manufacturer dedicated to producing high and stable quality of laptop adapters.
We are a professional, practical and high efficiency group. To supply top quality products and service are our solid mission. The company has established a perfect technology development center and quality control system, it always develops new products to keep step with the leading market.
The efficient management, advanced production and testing facilities have enabled us to fully control the quality of our products.
We always Take care of customers sincerely, understand and consider the requirement of customers, and continuously provide excellent product and best service for long term co-operations.
We have a big range of adapters models for most brands like: APPLE – ACER – ASUS -HP – TOSHIBA – SAMSUNG – DELL – LENOVO – IBM…